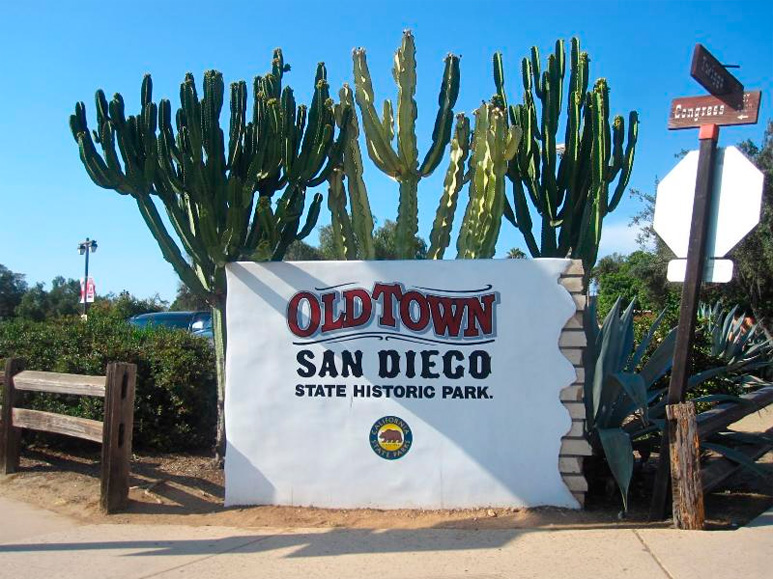 Considered the "birthplace" of California, visitors can witness the living legacy of California's origins in Old Town San Diego State Historic Park.  A short ride from Lucky D's on the trolley, the preserved historic buildings and museums of Old Town allow you to "go back in time" and experience California's history firsthand.
Restaurants in Old Town
Known for its authentic Mexican cuisine, Old Town's culinary scene is lively and vibrant. For traditional flavors in an upscale atmosphere, diners head to El Agave. This second-floor hacienda-style hideaway boasts a mind-blowing tequila collection and a menu specializing in upscale dishes that celebrate indigenous Mexican ingredients. Café Coyote enchants with its, festive décor, massive margaritas, strolling mariachis and open-air atmosphere. You'll also find authentic fare at Old Town Mexican Cafe y Cantina or any of the other local cantinas. Beyond the excellent Mexican cuisine, Harney Sushi offers creative Japanese dishes and sushi roll concoctions, such as the "Mike Check" roll featuring lobster, cilantro, garlic ponzu and wonton chips, as well as expertly prepared traditional nigiri.
Historical Buildings
The Old Town State Historical Park maintains a collection of 19th-century homes and businesses that give visitors a glimpse into colonial life in San Diego. Seek out the old adobe ranch homes, schoolhouse and graveyard spread among the occupied areas of the neighborhood.
There are also numerous rumors of ghost sightings in the area—most persistently at the old Whaley House Museum on San Diego Avenue. The Whaley House & Museum is one of only two officially designated haunted houses in California. Constructed in 1856 on a former gallows' site, the house was once home to the Whaley family as well as San Diego's first theater and county courthouse.
Constructed in 1825, Casa de Estudillo unveils the lifestyle of a prominent San Diego family. Standing as the the most famous of the original adobe buildings in Old Town, it's furnished with representative items from the 16th to 20th centuries within its 13 rooms.
The Junípero Serra Museum in Old Town's Presidio Park is one of the most familiar landmarks in San Diego, recognized as the site where California began. Neighboring Heritage Park showcases San Diego's Victorian era with six
Shopping in Old Town
Shopping in Old Town State Historic Park reflects the history of the 1800s and captures the essence of San Diego's colorful past. A diverse selection of stores can be found in Old Town like Cousin's Candy for fresh homemade taffy, Toby's Candle Shop where visitors can make their own candles, the Johnson House specializing in hat-making. and Alvarado Provisions for unique gourmet foods. Old Town Market Place, an open-air courtyard, is home to a variety of carts and shops that sell handcrafted trinkets, clothing and accessories traditional to the Mexican culture.
Nestled in the heart of Old Town State Historic Park, Bazaar Del Mundo, a San Diego shopping and dining institution, is popular for food, folklore and fun. Translated as "marketplace of the world," Bazaar del Mundo features award-winning restaurants and international shops with a dazzling array of ethnic clothing, jewelry, pottery, furnishings and many other treasures. Countless special events also make Bazaar del Mundo an attraction year-round.