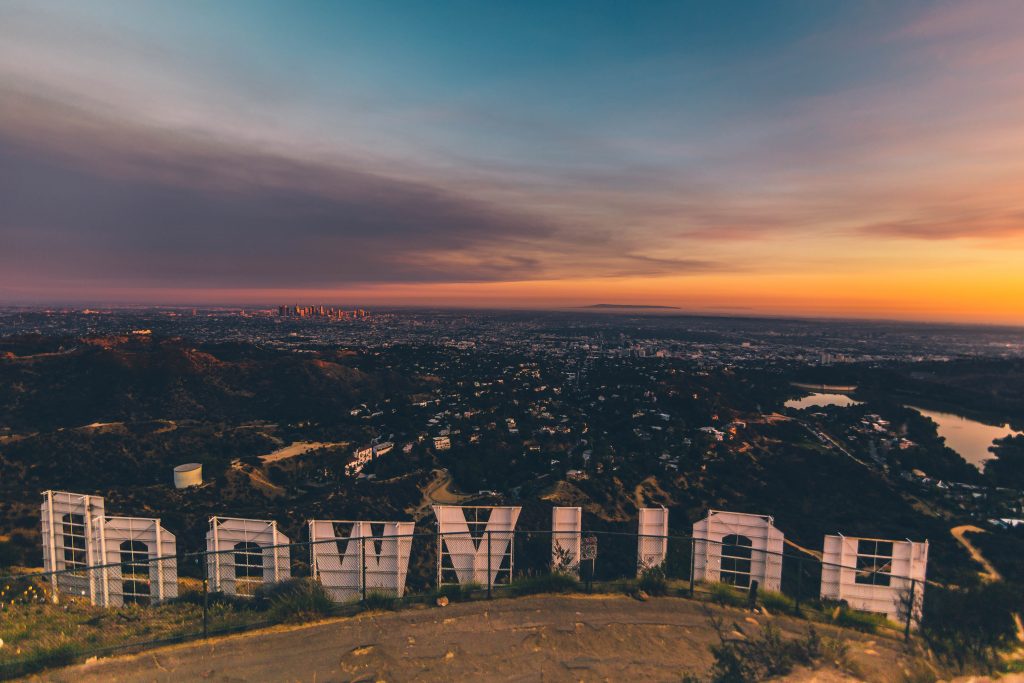 South of the Border
Tijuana
Just a 20 minute trolley ride from San Diego, every visitor should treat themselves to at least one day in this vibrant jewel of a border city. Formerly known as the Vegas of Mexico, TJ has been experiencing a cultural renaissance over the last 20 years, a bustling urban hub where you can experience an authentic taste (and drink!) of Mexican life and culture. With gorgeous, colorful murals and rustic kitsch shops around every corner, TJ offers some of the best street tacos in all of Mexico; incidentally it's also where the Caesar salad originated, a Prohibition era treat which you can watch whipped up tableside at Caesar's on Avenida Revolución.
Although Tijuana has shirked a lot of the murkier elements of its past, it's still recommended to visit during the day and stick to the more populated areas—don't stray out into the neighborhoods, and stay away from the Zona Norte. If you're uneasy about going by yourself, there are a variety of quality guided tour companies—Turista Libre, Club Tengo Hambre, and Let's Go Clandestino are all highly recommended companies that offer a variety of different sightseeing opportunities. Check out our posters around the hostel for information on the Tijuana craft beer crawl, which meets at San Ysidro (the last stop on the blue line) every Saturday at 1:30 p.m. Lead by a bilingual guide, the ticket price includes pickup, drop off and everything in between.
Other spots worth investigating are Telefonica Gastro Park—a semi-permanent food truck park with an array of savory Mexican street food—and Mercado Hidalgo, Tijuana's permanent public market, full of colors and different tastes and smells that definitely merits a visit. Plaza Fiesta is worth a look as well, a veritable craft beer paradise.
Ensenada
Drive an hour and a half south of Tijuana and you'll hit Ensenada, a dreamy little coastal town on the Baja California peninsula known for its fresh, delicious seafood, gorgeous oceanic views and plentiful vineyards. Check out the the sea cliffs of the famous marine geiser La Bufadora in the Punta Banda pensinsula with a fresh, savory fish taco in hand while gazing over the sapphire blue Pacific. Ensenada's brewery and wine game is nothing to sneeze at either, with Valley Girl Tours and the Bodegas de Santo Tomas being great options for all the hard-core wine-os and the Old Mission Brewing and Wendtland brewery a must for all craft beer aficionados.
Northern Neighbors
Los Angeles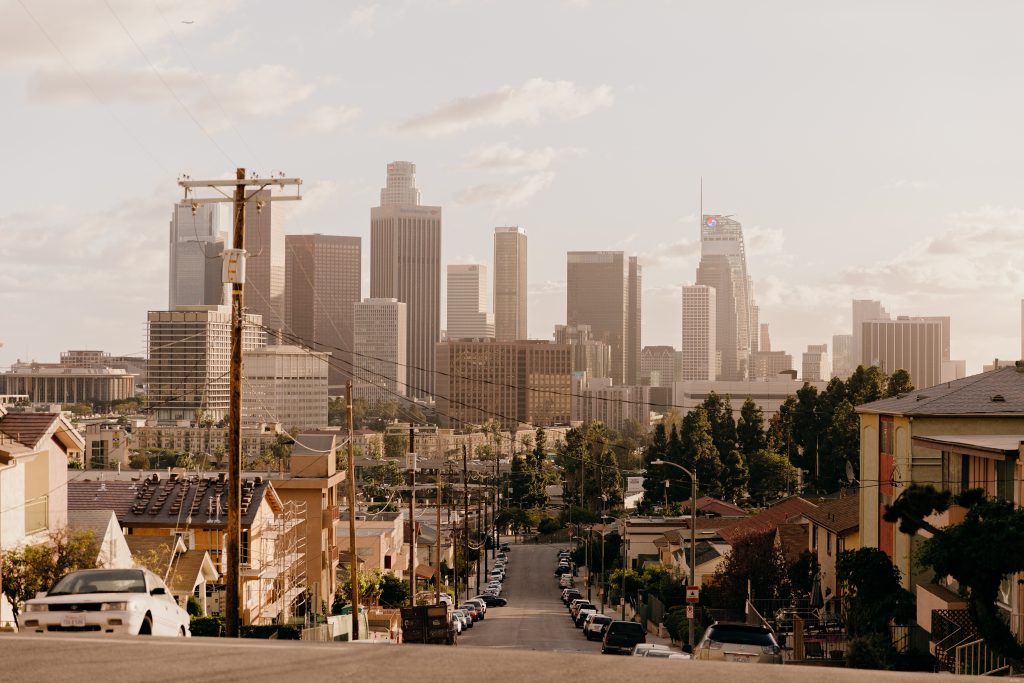 About a 3 hour drive from San Diego is one of the most famous cities in all of the states, the city of Angels. A large metropolis with a reputation that precedes it, we recommend taking a bus or the Pacific Coaster train for a no-hassle experience, though renting a car is always an option as well.
Temecula
About an hour's drive north of San Diego lies Temecula, a favorite among SoCal visitors. Known for their enchanting wineries—many of which offer tasting rooms and private tours—that's not all you'll find in this charming little town: Temecula is full of sensory delights, boasting many wine-centric resorts, artisan olive oil boutiques, a modern casino with a rooftop nightclub and pool, and a variety of luxe, verdant golf courses. Old town Temecula is certainly worth a look while you're there, with a host of shops, museums, and restaurants to peruse. The first weekend of June is the annual Temecula Valley Balloon and Wine Festival, which features hot air balloon launches and wine tastings from over 20 of the area's vineyards
San Clemente
Called "the Spanish village by the sea," San Clemente is located halfway between LA and San Diego; known for its phenomenal views of the mountains and the Pacific Ocean, and beautiful 'Spanish colonial architecture,' San Clemente is also a major surfing destination with great swell year-round. One of the most visited state parks in California, San Onofre state beach is an idyllic spot to while away an indulgent, sun-drenched afternoon; on Del Mar street in the downtown area you can find many boutiques, restaurants, and artisanal shops in the charming mission style streets. If your consumer lust hasn't yet been sated, on your way back to San Diego be sure to check out the San Clemente Outlet Mall!
Orange County
California's third-most populous county (which includes the aforementioned city of San Clemente) is the infamous Orange County, which is included in the greater LA-Long Beach-Anaheim, CA metropolitan area. Being home to several legendary SoCal cities, you'll hardly have trouble finding things to do; spend the day hanging out with Belle, Snow White and the gang in the original Disneyland in Anaheim, CA, or live out your Game of Thrones fantasies in the sidelines of a jousting match at Medieval Times in Buena Park. Visit the iconic Huntington beach pier, one of the longest on the West Coast, or the stunning old Spanish mission of San Juan Capistrano, the oldest building in California that is still in use today. The striking red sandstone cliff faces of 'the sinks' in Limestone Canyon Nature Preserve are not to be missed, nor is a visit to Watson's Soda Fountain & Café, a throwback classic retro style diner.
Oceanside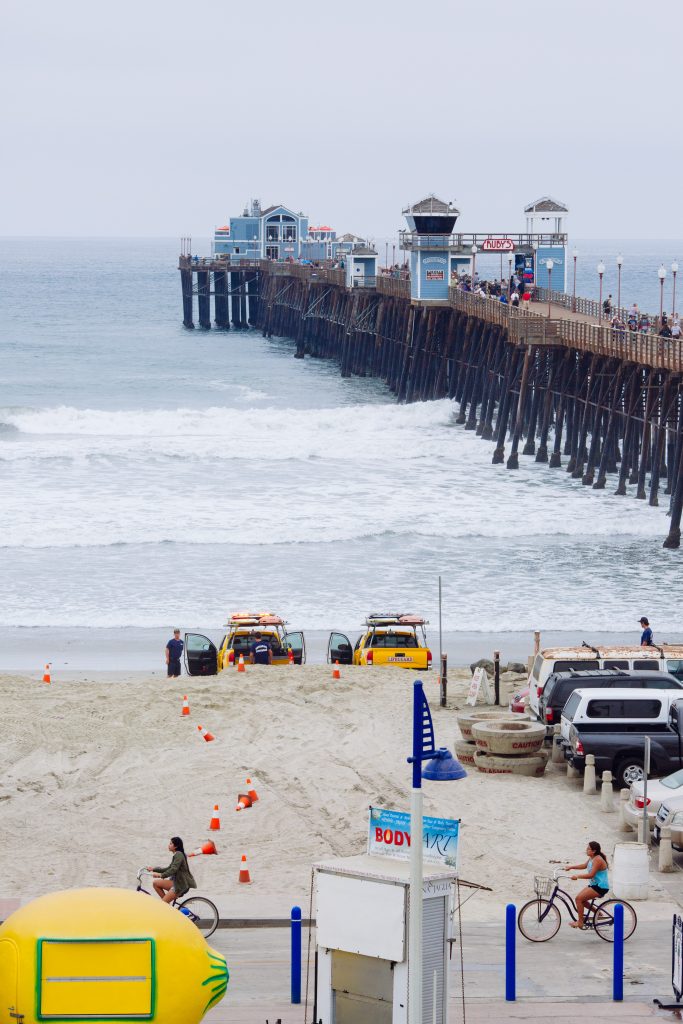 Less than an hour north from San Diego lies Oceanside, a beautiful laidback SoCal beach town with wide sandy beaches and charming beach bungalow neighborhoods. Check out the 130 year old Oceanside Pier, one of the longest wooden piers on the West Coast, and the Mission San Luis Rey, a pristine example of Spanish colonial architecture. The California surf museum resides there as well, chock full of the evolution of the art of surfing, and the Oceanside Sunset Market, where thousands gather each week to peruse specialty food, gifts and jam to live music.
Carlsbad
Often called "the Village by the Sea" by locals, Carlsbad is a charming seaside resort city just north of San Diego. Legoland California is based there as well, a theme park and aquarium based on the Lego toy brand, kid-friendly but equally fun for those young at heart. There's plenty of opportunities for surfing in this gorgeous seaside town, with the quiet beaches there offering a more private experience of the Pacific. Every spring California the floral 'superbloom' takes place, creating a stunning array of brilliant ranunculus blossoms, sweet pea fields, and rose gardens in the Flower Fields at Carlsbad. Swoon!
Encinitas
Less than an hour north, downtown Encinitas is a salute to California beach culture, an embodiment of the bohemian SoCal surfer vibe with plenty of surf shops, record stores and cafés. The San Diego Botanical Gardens features more than 37 acres of exhibits, with a variety of forestry and vegetation from all over the U.S. and the world! Check out the 'surfing Madonna,' a creative mural depicting a surfing Virgin of Guadalupe in downtown Encinitas; initially an object of 'graffiti' over which opinions were starkly divided, it has now been accepted as a treasured installation of the area. Have a nighttime barbecue or bonfire at Moonlight Beach, or check out the swell at Swami's Beach, which inspired the iconic Beach Boys hit "Surfin USA."
East of San Diego
Borrego Springs & Julian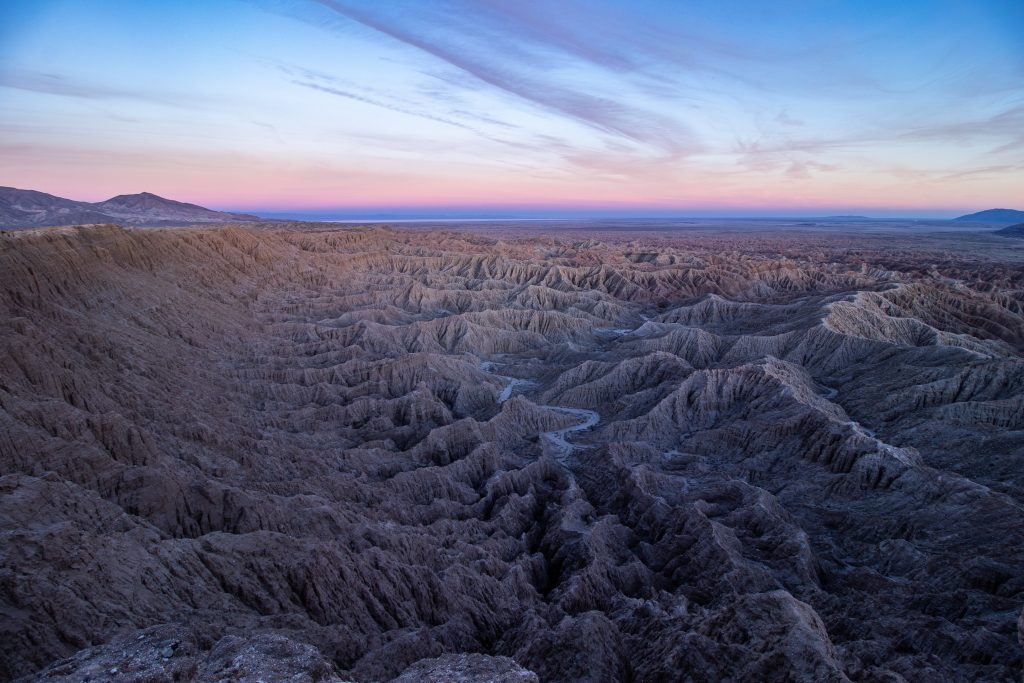 For all the nature lovers, head east!
Don't miss the Anza Borrego Desert State Park in Borrego Springs—the largest state park in California, the park boasts 110 miles of hiking amid the Colorado Desert. Hiking and biking are permitted, and the august life-size metal sculptures of prehistoric creatures in Borrego Springs are incredible—the perfect backdrop for an Instagram-worthy photoshoot. Just make sure to bring lots of water!
Cuyamaca Rancho State Park offers a completely different outdoors experience altogether; due to its higher elevation it is considerably greener there, with pine, fir and oak filled forests covering the hillsides and snow capping the peaks of the Laguna mountains. Trails for hiking, horseback riding, and mountain biking can be found there, as well as a number of lush campgrounds.
The park is located in Julian, CA, about a 45 minute drive from downtown. Julian is also known for Julian Apples, and renowned for making the best apple pies—be sure to treat yourself to one on the way out!
In one day's time, you can find yourself wandering the desert in Borrego Springs, hiking the snowcapped Laguna mountains in Julian, and be back on the beach in time for sunset.