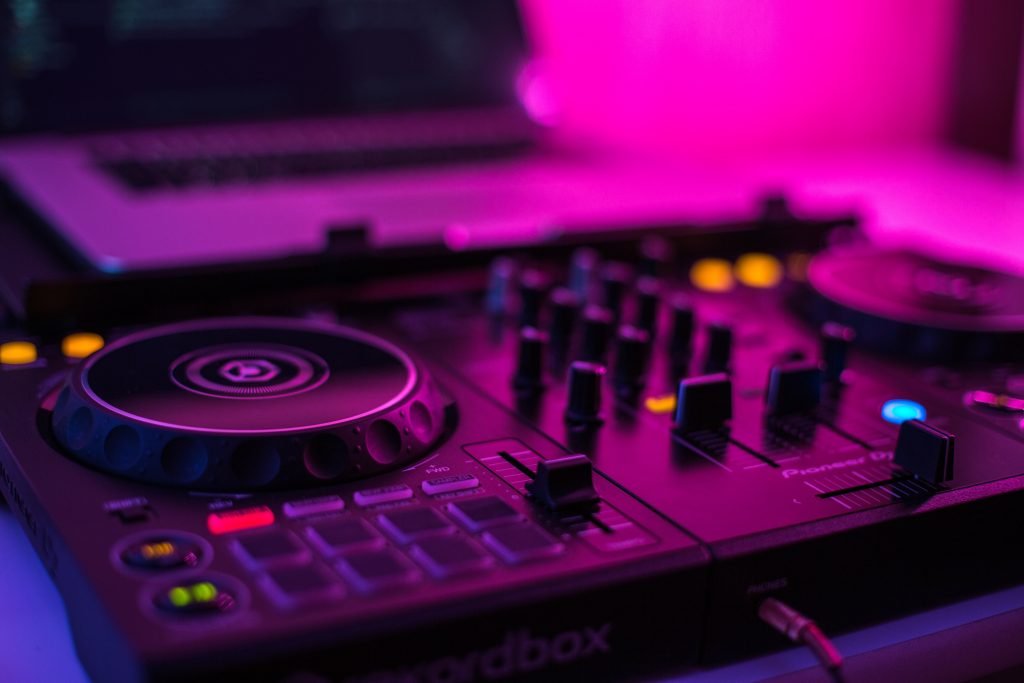 Best Clubs in the Gaslamp Quarter
Parq Restaurant & Nightclub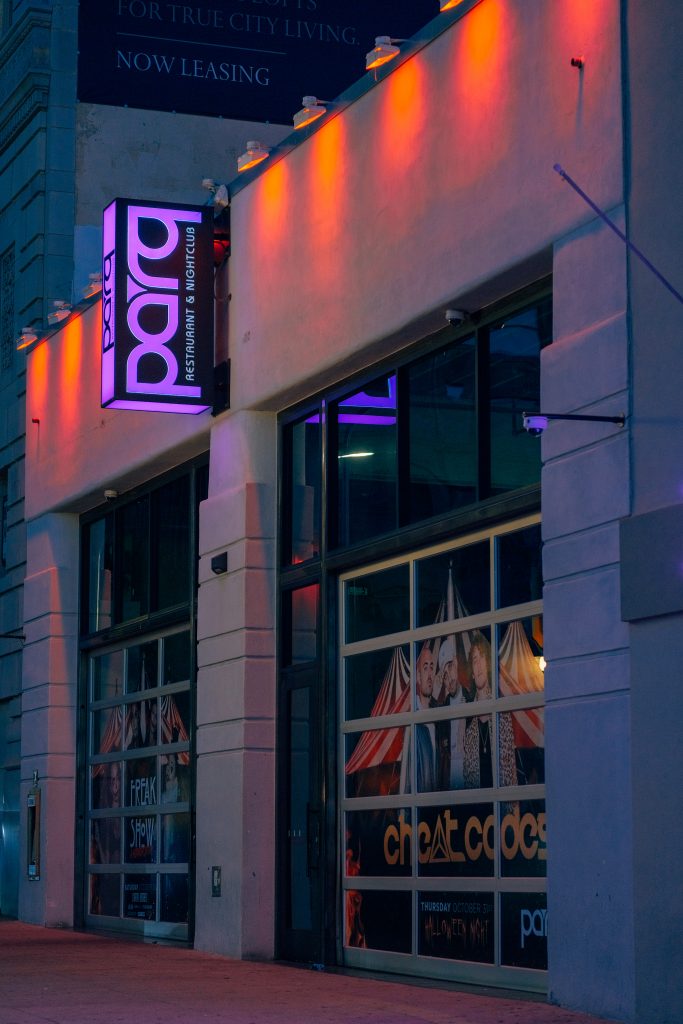 Parq offers a unique ambience via their stylized aesthetic, with different textures and moods throughout the space; it's the biggest nightclub in San Diego, with great attention to detail regarding their sound, lighting and design, in order to evoke different sensations as you navigate Parq's expanse. Competing with the most opulent clubs in Vegas, famous acts can be seen on their stage in addition to traditional go-go dancers, aerial dancers and a gyrating robot. It's a really grandiose, visually enticing locale that draws you in, with a restaurant connected to the club as well.
OMNIA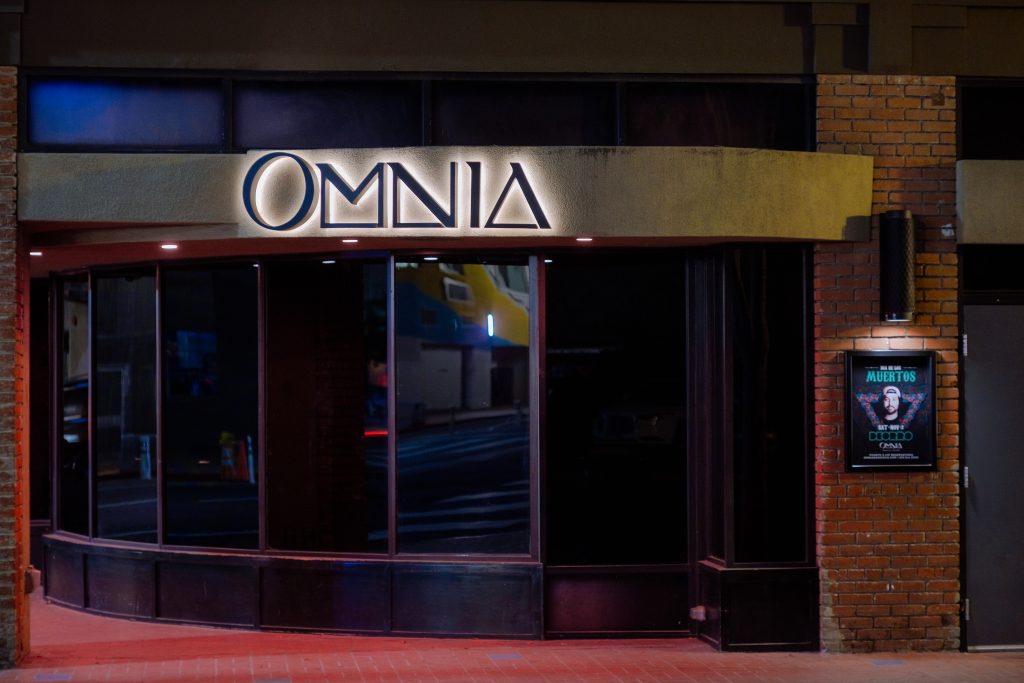 multi-level club with live DJ, main level and middle you can see the stage. There's a rooftop lounge with a separate DJ, and at Lucky D's we get a special deal every Thursday, any vodka mixed drink free from 9:30-10:30.
Onyx Room
The Onyx room offers a more diverse musical experience, with opportunities for both hip-hop aficionados and Latin music lovers. If you're looking to shake your tailfeather to popular hip-hop beats and top 40 hits, the upstairs is where it's at; for those who prefer Latin rhythms a la Despacito, check out the downstairs—they even have salsa, bachata, and merengue dance lessons in the back on certain nights, with inexpensive options for bottle service.
Sidebar
An intriguing blend of neo-Victorian vamp and carnivalesque décor, elaborate bird cages and disco balls dangle from Side Bar's ceiling while avant-garde paintings and louche vintage portraits line the walls. They have large, comfortable booths for lounging that provide a bird's eye view of the dance floor, and they offer a mixology class the first Saturday of every month.
Sevilla Nightclub
Sevilla Nightclub also offers a more Latin ambience, with live music certain nights of the week and DJs druring others. Wednesdays are salsa and bachata night, and on Tuesday they offer basic dance lessons in both!
Whiskey Girl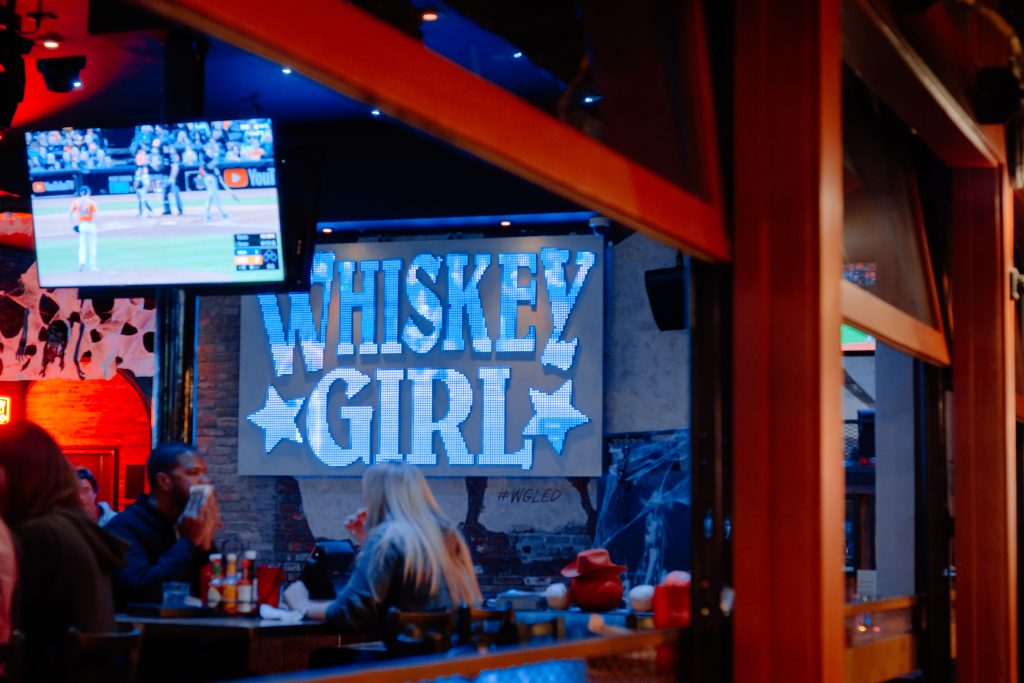 If you're looking for something a little more casual, Whiskey Girl on 5th is the place—with no cover charge and no strict rules regarding attire, it's something of a mix between a sports bar and night club. There is a large dance floor and bar area and are located in the heart of the Gaslamp Quarter
Altitude Skylounge
Also offering free admission is the Altitude Skylounge, highlighted by its gorgeous décor and phenomenal views of the downtown area. Located on the 22nd floor of the downtown Mariott, Altitude Skylounge provides panoramic views of the city—from Coronado Island, San Diego Bay, the downtown skyline and Petco Park. The bar's atmosphere is nothing to sneeze at either, with glass fire pits and lots of comfortable chic lounge style seating.
American Junkie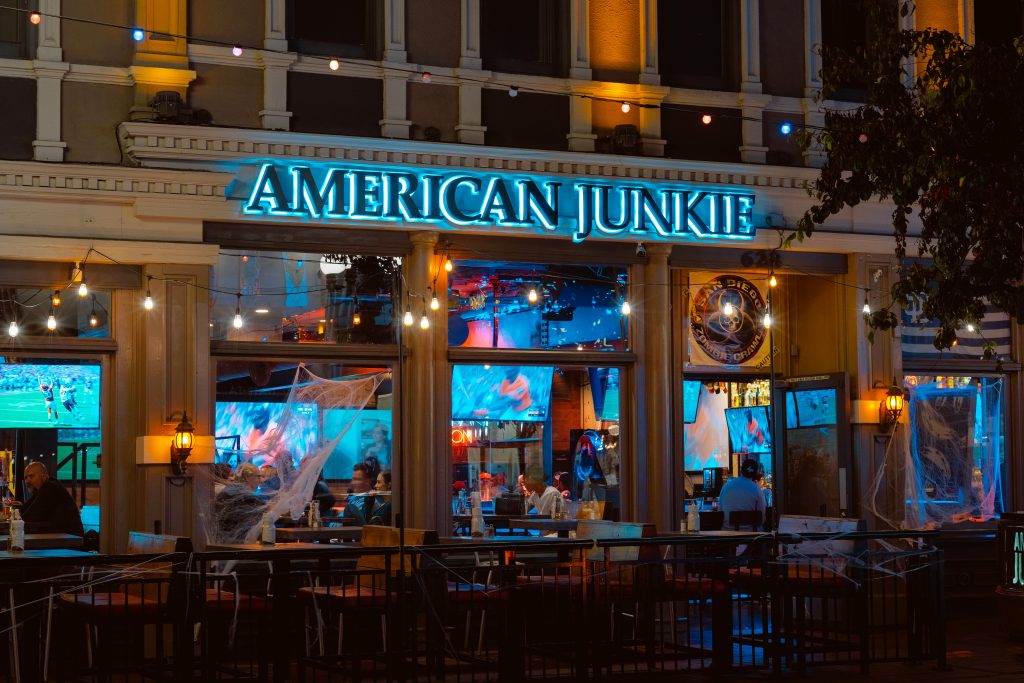 This is the place for TacoTuesday, with $5 all you can eat tacos; choose from beef, chicken, or vegetarian option, plus required purchase of a beverage ($3 Corona, $5 Margaritas, Jameson & Don Julio Shots). At 10 the place turns into club until 2 a.m, giving you plenty of time to dance off your taco food-baby.
Hard Rock Pool Party
Every Saturday, the Hard Rock San Diego throws a luxe rager of a rooftop pool party. Come experience Southern California at its finest, sipping beverages and lounging poolside in the abundant sunshine. Lucky D's gets an exclusive discount, and many guests rave it's the cherry on top of their SoCal vacay.
Barley Mash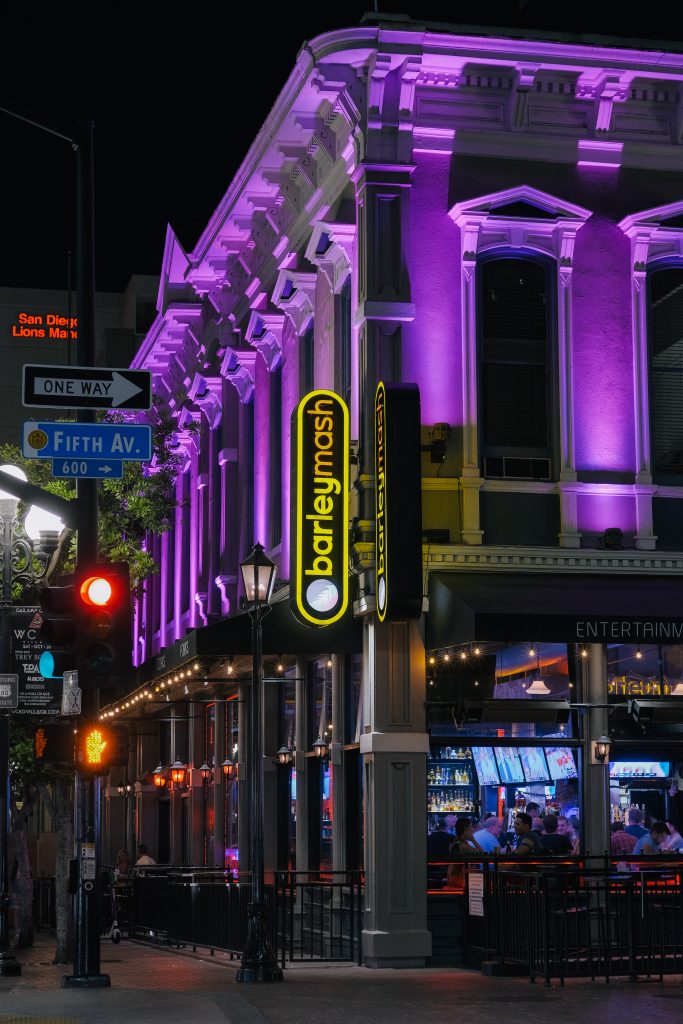 A cross between a sports bar and a gastropub, Barleymash is a high energy bar with a menu focusing on local craft beer and bourbon. They have a large dancefloor, as well as plentiful TVs for gameday; a great spot for day-drinking and people-watching along one of the busiest streets in the Gaslamp.
LIVE MUSIC
House of Blues
Built on a foundation of Southern musical traditions, the House of Blues tries to find and support local artists as much as big name performers. Inspired in part by Southern juke joints, the House of Blues "is dedicated to educating and celebrating the history of Southern Culture and African American artistic contributions to music and art." Underneath the stage in every House of Blues is a box of Delta Mississipi mud—a sort of talisman "to ensure that every artist has the roots and spirit of the South beneath their feet." They have an eclectic assortment of art on the walls, ranging from folk art and self-taught to 'outsider style', constantly striving to mix it up and feature more off the beaten path styles. If you're looking for live folk, rhythm & blues, or rock music in San Diego, check out the House of Blues itinerary.
Tin Roof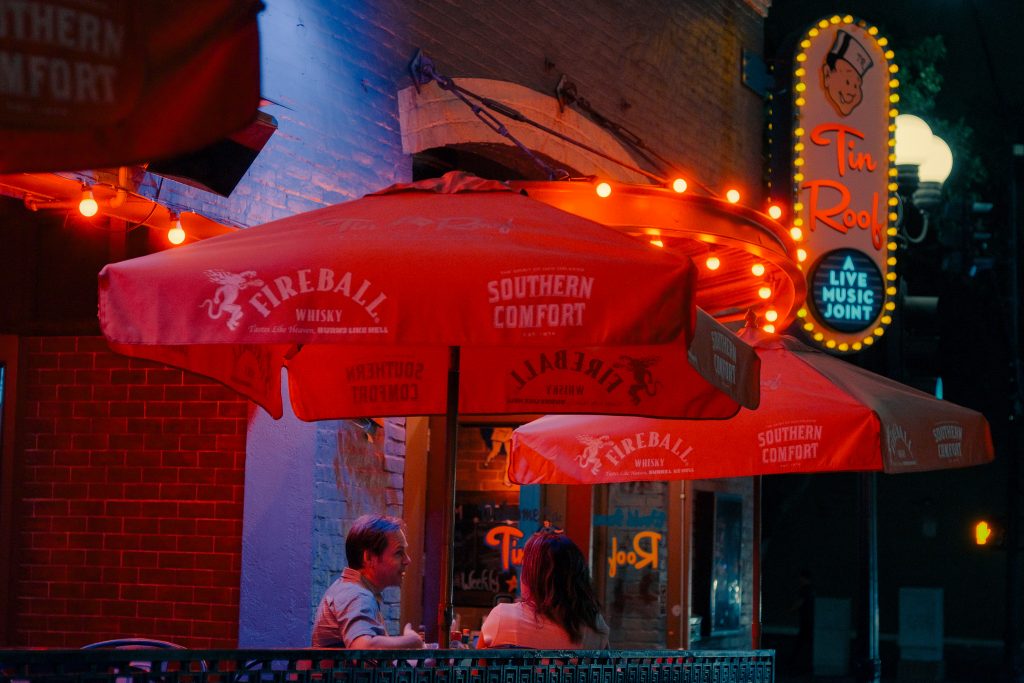 Just a short 5 minute walk from Lucky D's, Tin Roof brings a little bit of Southern charm to San Diego; though spacious, the Nashville inspired bar is an intimate spot where you can enjoy live local music and great people watching! They have tables for beer pong, jenga, and cornhole; on the patio outside is a large place to play shuffleboard. Bonus: they serve weekend brunch from 10 a.m. to 2 p.m. on Saturdays and Sundays, with bottomless mimosas and $5 bloody mary's!
Café 21
Also a popular eatery, the Mediterranean inspired restaurant features live local musicians every night of the week starting at 7 p.m. Grab a seat and a cocktail in their earthy and arabesque space and enjoy local acts ranging from jazz, big band, and flamenco to folk music. Best of all, it's free! (Though we do recommend at least a minimal purchase as a gesture of gratitude.)