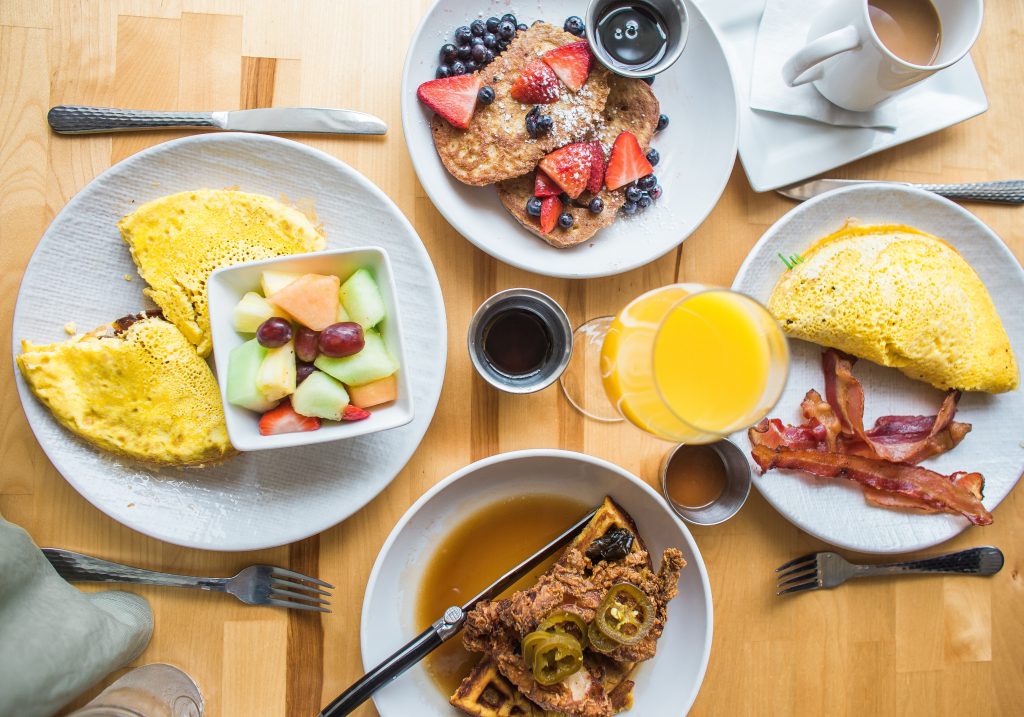 Brunch & Coffee Spots in San Diego
Breakfast Republic of California
Also located around the corner from Lucky D's is the Breakfast Republic of California, a Zagat-rated breakfast joint with tasty takes on traditional American classics, such as Oreo pancakes, Shrimp & Grits, and S'mores French Toast. They keep a steady rotation of 20 California beers on top, and offer a clean, simple interior with lots of vibrant greenery lining the walls; if you're looking for a hearty brunch on-the-go, this fast-paced joint is the spot for you.
The Mission
A Mexican inspired brunch spot, The Mission strives to provide "simple healthy, tasty food with a whimsical edge," offering delicious fresh breakfast food with south of the border flavor and great drinks in a chilled out ambience. It's a simple space with art hanging from the walls and is a favorite among San Diego locals.
Café 21
If you're in need of a hair-of-the-dog after a long night out clubbing, Café 21 is your best bet. Try one of their creative Bloody Mary's to start off a boozy brunch, then mix it up with a flight for a little more variety—mimosas, house-made sangrias, and mojitos all available—while lounging on their patio which borders the vibrant central vein of the Gaslamp Quarter. All of their food is locally sourced and prepared in house (even the breads, all of which are made from scratch and gluten free!) and all meat on their menu is hormone free and free range. They offer a variety of egg dishes, skillet omelets, and original renditions of eggs benedict, as well as tiramisu pancakes and an array of crepe cakes for those with a sweet tooth!
COFFEE SHOPS
Café de L'Opera
With from-scratch croissants known to rival the best in France and organic fair-trade coffee from locally-owned vendors, Café de L'Opera is a laidback café with a quaint, simple and clean interior. Just a short 5 minute walk from the hostel, they're extremely considerate of all types of diet and food sensitivities while also providing a perfect spot for a quiet workday or a quick and tasty lunch break.
Copa Vida
An open café filled with natural light, the interior style is modern classic elegance, with large open windows for a refreshing breeze and plenty of tables for work. They serve breakfast, brunch and lunch, as well as rich, high-quality coffees and specialty lattes. Copa Vida provides free wifi and an outdoor patio as well as great people watching, inside and out.
Bean Bar
Bean bar is a quiet little café located smackdab in the middle of the bustling downtown area. It's relaxing, uncomplicated and cozy with lots of seating and eclectic décor to feast your eyes on while sipping your beverage of choice. A great neighborhood coffee shop offering locally made sandwiches, pastries, and sweets.
The Cat Café
What goes better with a strong cup of coffee than adorable kitties? The Cat Café offers a wide variety of coffee drinks as well as a large open play area with lots of cats roaming about, many of them available for adoption! Entry to the café is free, though they ask that you purchase a drink before going in to play with the kittens. Practice Cat's Pose while cute kittens frolick about during their Cats on Mats, a yoga class occasionally offered at the Café.
Halcyon
Coffee house by day and bar/lounge by night, Halcyon is a large luminous space—a cool industrial ambience with a retro flare and large garage style doors that blur the lines between inside and outside. With lots of seating and hours that stretch til midnight, Halcyon is a great day or night alternative; get some work done in a cozy lounge chair on a breezy, sunny afternoon or mingle at the busy bar during golden hour. They have a variety of options as far as both caffeinated and alcoholic beverages and a spacious patio with outdoor fireplaces, perfect during cooler nights.
Lofty Coffee Little Italy
A little bit further away (but definitely worth the trek), Lofty Coffee in Little Italy is must for all serious café-goers and wannabe beatniks. The architecture feels very Fallingwater, incorporating natural elements and open air into the composition for a very fluid indoor to outdoor transition, a space where interior and exterior blend seamlessly. We recommend checking it out on Saturday morning—when the weekly Little Italy farmers' market, Il Mercato, takes place—for some stellar people-watching. Locally owned and sustainable, Lofty Coffee offers plenty of vegan and gluten-free pastries made from scratch, with a locally sourced organic breakfast and lunch menu.