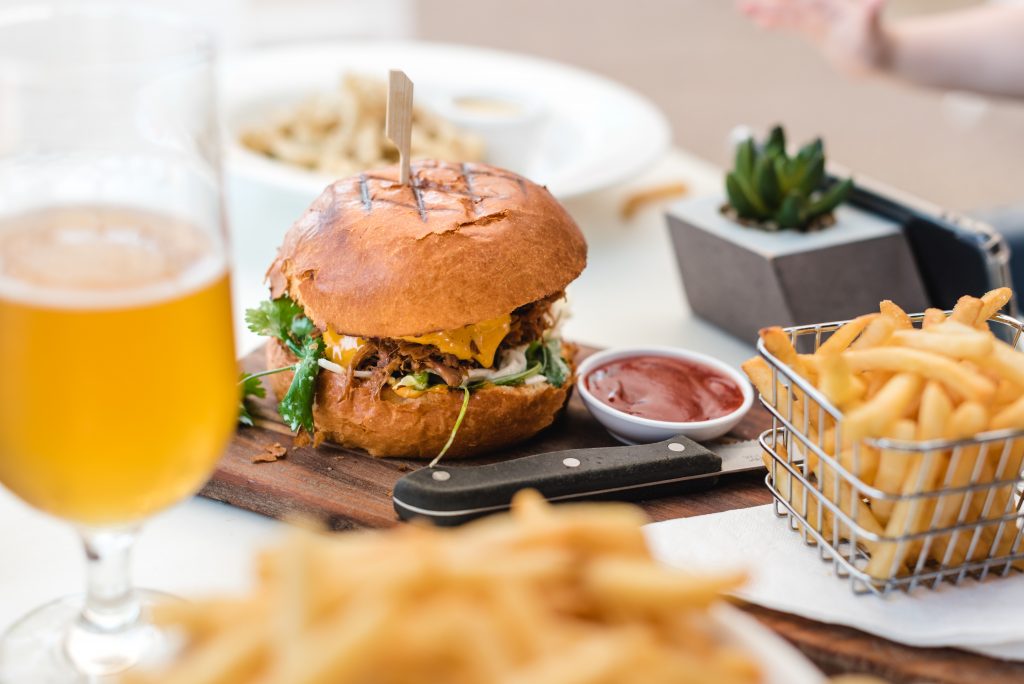 Cheap Eats in San Diego
Big Thyme Sandwich Co
A four-minute walk from Lucky D's, Big Thyme is a local favorite for fresh, tasty sandwiches with locally sourced ingredients. The dining area is a simple and rustic little cave, with ochre red walls, wooden tables and beautiful local art on display. They offer Domino's, cards, and Nintendo 64 to entertain yourself before the big feed, with outdoor patio seating also available. All sandwiches are well-portioned and served with a side of house-made potato salad or fries; they have a variety of vegan and vegetarian options, and all of their sandwiches are available on gluten free bread.   Their beverage offerings including craft soda, fresh juice, beer and wine—even a kombucha float! Try the Reuben or the grilled cheese, which many say is the best they've ever had.
Azteca
Azteca is a hole in the wall, no-frills over the counter taco shop, but what it lacks in ambience it makes up for in rich and authentic flavor. If you're looking for a quick meal of fresh, homemade Mexican food at a very friendly price, look no further. They're open late and it's worth the four-minute walk from the hostel, but be wary that the outside area can be a little 'colorful' at certain hours—maybe best to bring some company with you while getting your grub on. Try the breakfast burrito, a real crowd pleaser.
Pokez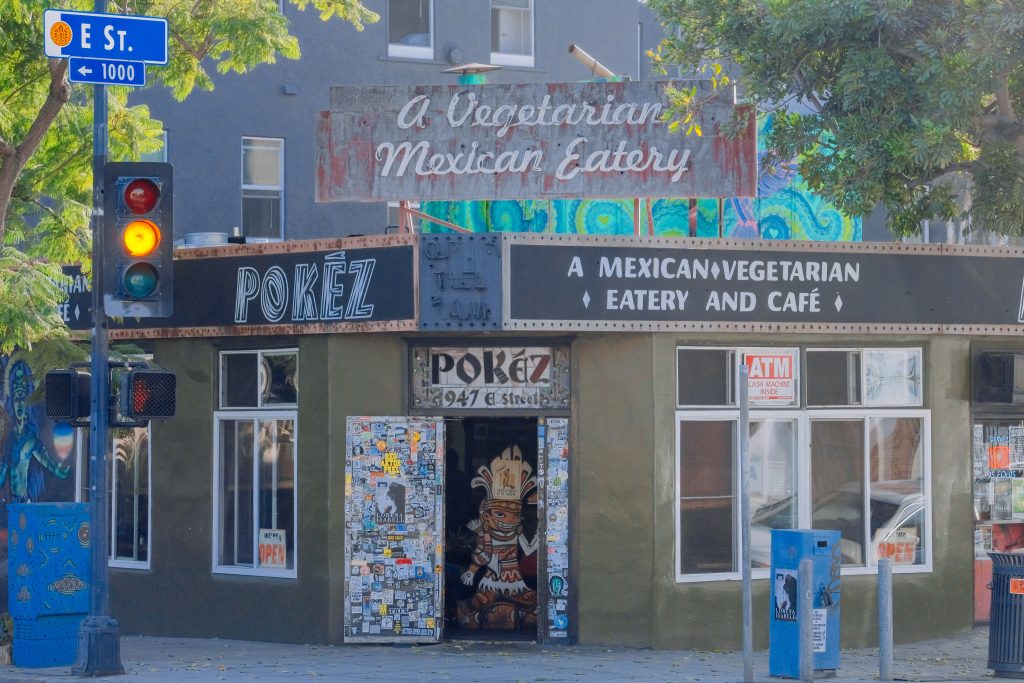 Also within walking distance is Pokez, Classic Mexican fare with an herbivore-friendly twist. It's a more upscale version of a traditional taco shop but still in a very welcoming price range, with free chips and salsa included when dining in. Their focus is on vegan/vegetarian and gluten-free Mexican cuisine in a hip and edgy atmosphere, a ruggedly chic update of a traditional cantina with lots of exposed brick and wooden design elements.
Hodad's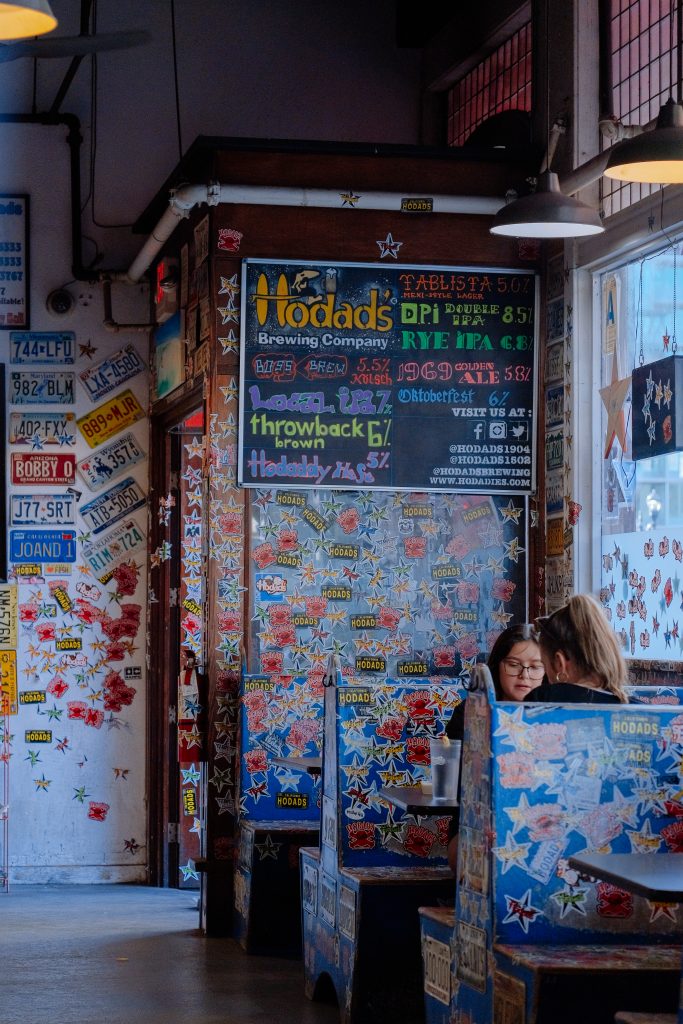 Featured on The Food Network's "Diners, Drive-ins, and Dives," Hodad's is a San Diego local favorite— Guy Fieri calls Hodad's as the best burger he ever ate! The "good old fashioned run-down-your-arm sloppy hamburgers" offer very generously portioned beef burger patties—be advised ahead of time that a single is more like a double, and even that can be hard to fit in your mouth! The store itself is full of California kitsch, with skateboards, surfboards and license plates from across the states decking the walls and picnic table style benches. Enjoy huge milkshakes and malts topped with a heaping scoop of ice cream, as well as house-made potato wedges and onion rings. The Ocean Beach location is packed around the clock, whereas if you catch the downtown location at the right time you can squeeze in without a wait.
Bootlegger
Of course we couldn't leave our downstairs neighbor off the list! Bootlegger has a laidback speakeasy-esque vibe and is a convenient place to grab a quick bite full of comfortable booths and trendy old timey décor. In addition to a daily happy hour, they have specials on certain menu items throughout the week, with two of our favorites being $2 tacos and $10 nachos (beer included!) on Tuesdays and $10 build-your-own-burgers on Thursdays (draft domestic also included). For Sunday brunch, they have $15 bottomless mimosas from 9 a.m. to 1 p.m.
Sushi Deli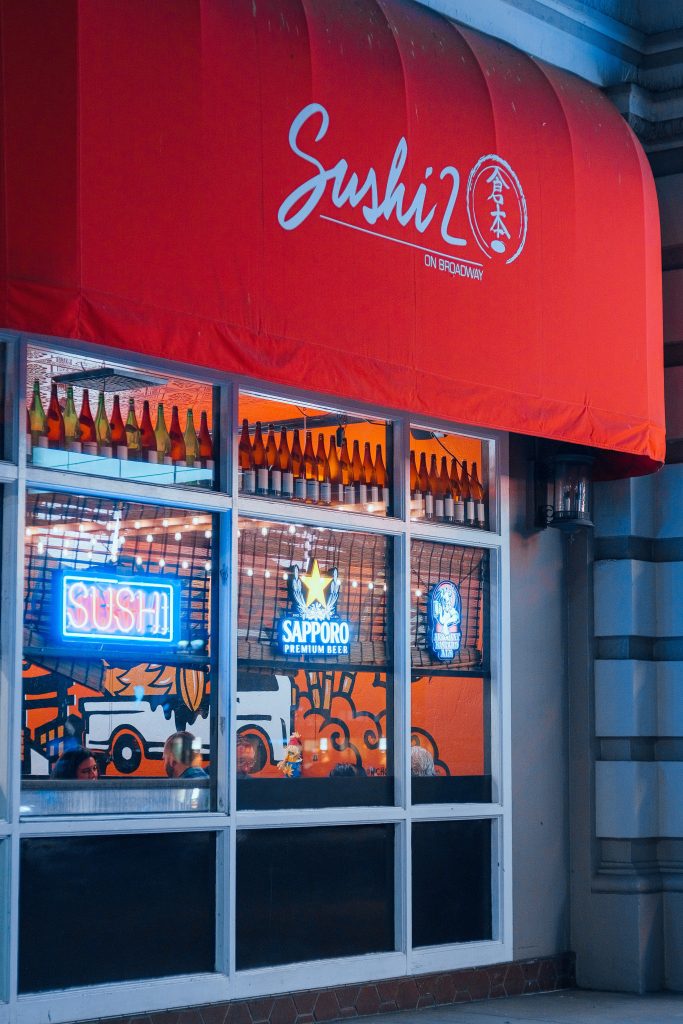 Considered the best of the Sushi Deli stores, Sushi Deli 2 features Japanese inspired cuisine, a creative twist on classic sushi. Known for their great prices, Sushi Deli 2 offers lots of daily specials and generous portions of high quality seafood, all wrapped up in an aesthetically pleasing presentation. Leave feeling satisfied and without putting a dent in your wallet!
Tin Roof
Just a short 5-minute walk from Lucky D's, Tin Roof brings a little bit of Southern charm to San Diego; though spacious, the Nashville inspired bar is an intimate spot where you can enjoy live local music and great people watching! They have tables for beer pong, jenga, and cornhole; on the patio outside is a large place to play shuffleboard. Bonus: they serve weekend brunch from 10 a.m. to 2 p.m. on Saturdays and Sundays, with bottomless mimosas and $5 bloody mary's!
Tajima Ramen
Considered one of the top Japanese restaurants in San Diego, Tajima Ramen maintains consistently quality throughout their restaurants, with rich, flavorful broths and a variety of enticing appetizers. The décor feels very Shinto-chic, with lots of dark wood, ambient orb lighting and gilded mandalas; the Gaslamp spinoff is rumored to have less of a wait than the other stores, with wooden booths and picnic table style seating.
Grapes & Hops
Across the street from Lucky D's lies Grapes & Hops, a deli and spirit vendor offering a variety of fresh sandwiches, salads, beer and wine. The place has a neighborhood deli shop feel, reminiscent of something you'd see in a New York borough. They use top quality Boar's Head cold cuts, along with flavorful bread and fresh veggies, and the service is fast and efficient. While they don't offer indoor seating, there's outdoor tables available for munching in the San Diego sunshine. Even better, grab one and have yourself a picnic in Balboa Park!
Oscars
Another hole-in-the-wall, Oscars offers authentic Mexican seafood at a very agreeable price. Known for their shrimp ceviche, they also offer $1 fish tacos Monday through Thursday from 2:30 to 5:30—a delicious bang for your buck.
Rockin' Baja
Rockin Baja Lobster is inspired by the lobster village of Puerto Nuevo in Baja California, a pacific paradise of lobster fare which the owner visited frequently as a child. With décor modeled off of the traditional Puerto Nuevo style, they offer delicious Mexican seafood at great prices. Our manager recommends the sizzling garlic shrimp!
Gaslamp Pizza
Located in the heart of downtown San Diego, this family owned and operated pizza joint offers pizza by the slice and delivers! Go here for late night New York style pizza.
Ciro's Pizza
A chill pizza joint with a full bar and a wide variety of local craft beers on tap, Ciro's is a staple for Lucky D's patrons. They offer large New York style slices, Stromboli, chicken wings, and garlic knots with great happy hours! Ciro's is open late on weekends, with a DJ'd dance party in the back, and all Lucky D's guests receive a 20% discount when they present their key card at the register.
Brooklyn Bagel Company
A counter-serve bagel shop serving breakfast and lunch sandwiches with a variety of toppings, Brooklyn Bagel Company is a very American sandwich shop with great coffee drinks and free wifi. It can be a little busy at peak times, but the service is always quick and efficient. (10th & Island)