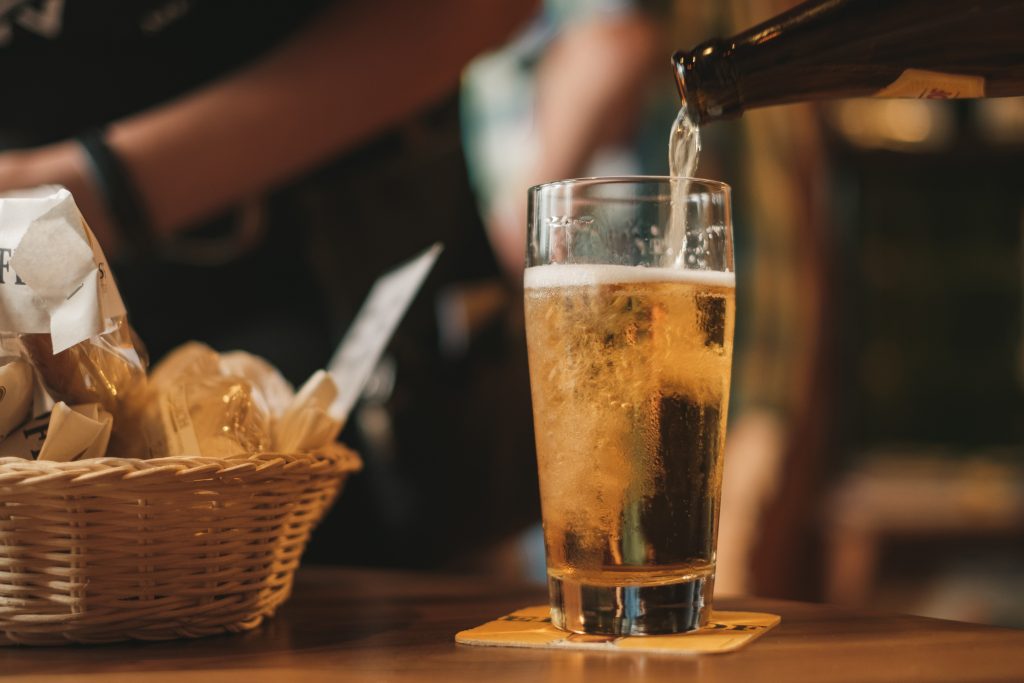 Downtown/East Village Happy Hours
Every veteran traveler knows that food is an intrinsic and extremely enjoyable part of traveling; sampling the local cuisine in a new place is like sightseeing for your taste buds, and in order to really fully experience the vibe of a new city, it's necessary to dive in flavor-wise and savor the local gastronomy.
Unfortunately, however, eating out every meal isn't an option for most travelers on a budget—thus enter Happy Hours, the frugal traveler's best friend.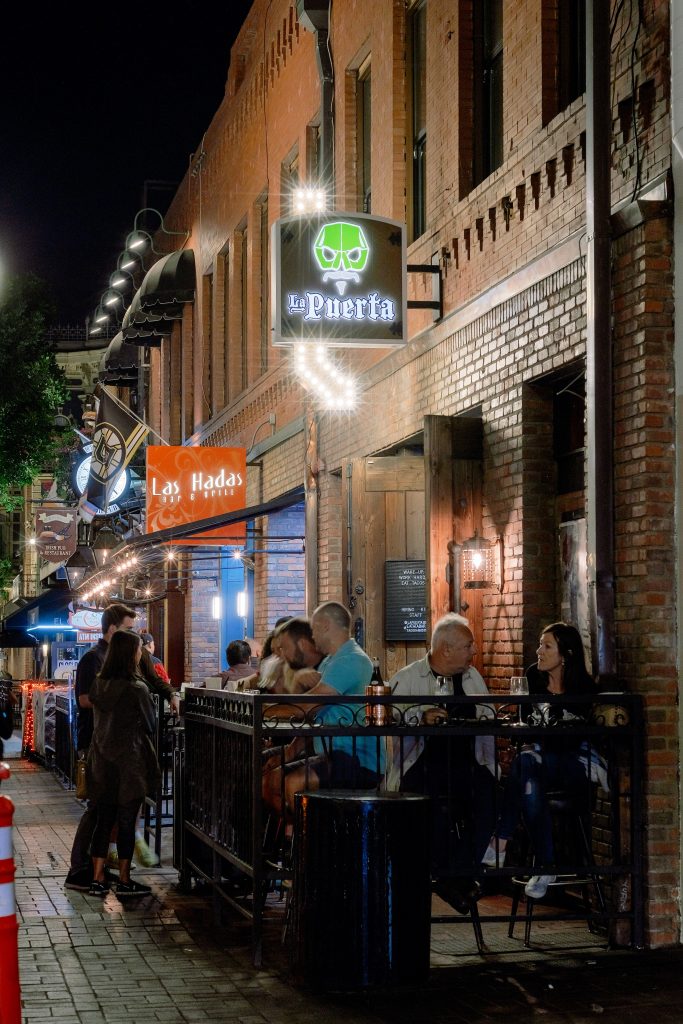 For those uninitiated, Happy Hour—aka "a cocktail hour or longer period at a bar, during which drinks are served at reduced prices"—takes place during a bar or restaurant's slower times, usually in the afternoon on weekdays. It's a way that restaurants can coax in customers during a typically dead time of day, which they do so by slashing prices and offering discounts and specials on food and drinks.
For those of us penny-pinching nomads, it's a way to sample a restaurant's offerings for a fraction of the price. Aside from being a steal pricewise, happy hour is generally a far quieter time of day, as it starts during traditional workday hours—meaning that you and your significant other, best friend, and/or new friends you met at Lucky D's (woot woot!) can enjoy yourselves in a quieter, more relaxed setting. No having to put your name in the queue at the host stand, bumping elbows with other tables while trying to find a seat, or losing your voice from having to talk over the loud din.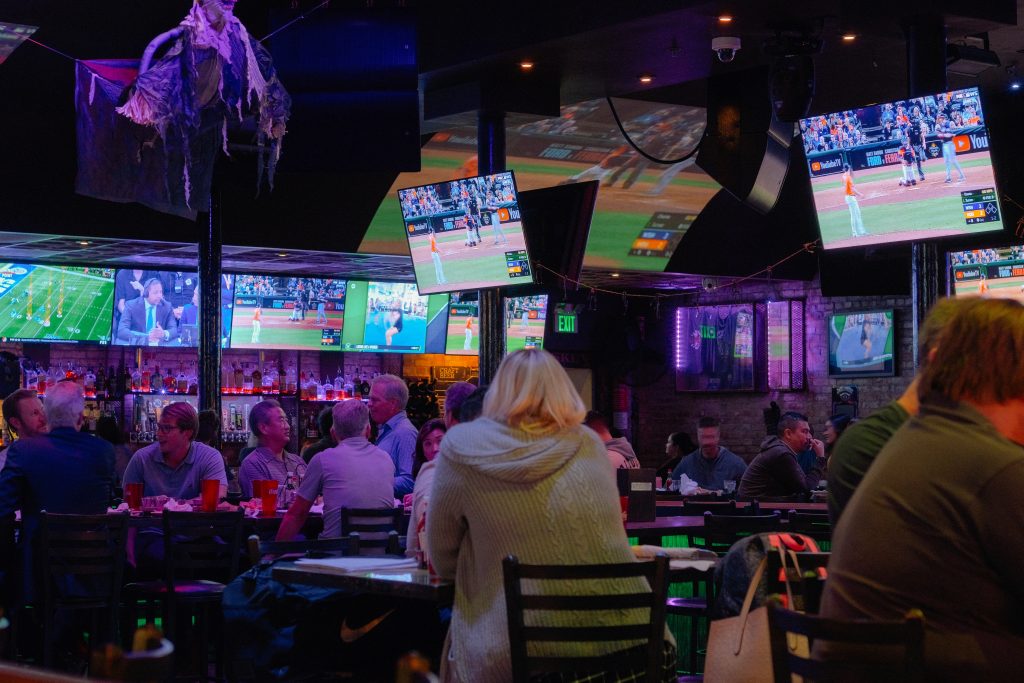 It's the perfect mid-afternoon interlude—a quick bite and tasty beverage to ease you into the late afternoon after a lengthy hike at Balboa Park, a sun-inundated afternoon bronzing yourself on the beach, or just to treat yoself because you're on vacation.
Here we've compiled a list of our favorite Happy Hours in the East Village/Downtown area, along with a little bit about what makes each spot so special.
Neighborhood
Located catty-corner from Lucky D's is Neighborhood, a rustic-chic bar and restaurant that boasts an impressive selection of craft beer, both local and imported. The inside has a relaxing, artisanal vibe to it, filled with earthy, dark and wooden materials that are highlighted by the bar's intimate mood lighting; the small astroturf padded patio outside is great for people watching along the corner of 8th Avenue and G Street. The menu flaunts a variety of vegan/vegetarian options, and the mac 'n' cheese remains a requisite favorite, particularly hamburger helper style if you're up for it. In the back of the restaurant lies a speakeasy, which on weekends tends to get filled up pretty quickly—make sure to put your name in early!
HH Deal: Monday through Friday, enjoy 2 for 1 local beers from 4-7 p.m.!
HALF DOOR
A staff favorite, Half Door is an Irish-pub style brewery with a cozy, vintage ambience. Situated in an old house, the bottom patio that greets you upon entry is reminiscent of the old verandas from grand hotels of the Gilded Age, perfect for catching some sun and people watching on 9th & Island. Walk inside and it feels like you've entered a much cooler version of your Grandfather's study, filled with unassuming upcycled cool—comfortably worn love seats, floral wallpaper, distressed coffee tables and repurposed church pews. The two-story ceiling to floor liquor cabinet creates a dreamy effect when progressing to the second level, the afternoon sunlight playing through the different bottles to cast a kaleidoscope of colors while walking up the stairs. The second story is even homier, full of leather chairs, couches and bookshelves filled with classic tomes; walk out onto the beautiful twinkle-lit outdoor patio and get a premier view of Petco Park and the intersecting streets below.
Normally pretty busy, the 'happy hours' are a more mellow time at Half Door; it's an ideal place for solo happy-houring as much as social outings. Bring a book or laptop and ride solo, or come with friends and pick out a classic board game from upstairs! They brew their beers onsite, with most of the menu items being modern updates to classic Irish cuisine.
HH DEALS: Monday through Friday, from 4-6 p.m.
$5 house beers, $6 draft beers
$5 well wine
$5 well cocktails, $6 specialty cocktails
$5 fried goat cheese, $5 truffle fries, $5 mac & cheese
$6 pretzel bites
$7 ahi tuna taco
$9 sausage flatbread
Pro tip: We recommend the Mac 'n Cheese with the Roark Red Ale.
Bubs at the Ballpark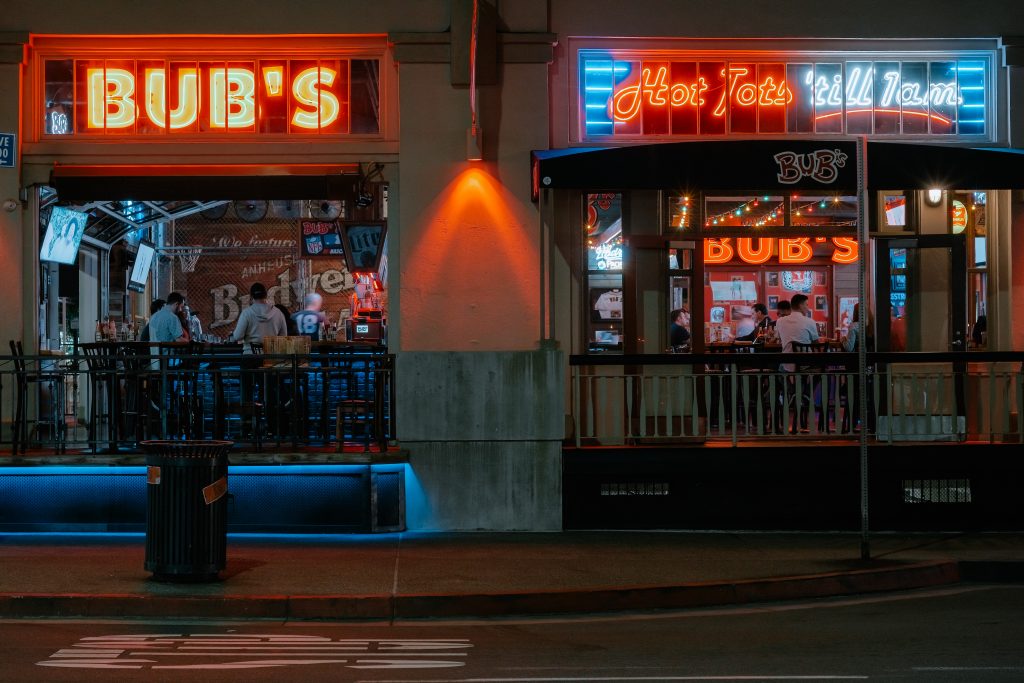 Located on the same block as Petco Park, Bubs is a convenient stop for food and drinks before a Padres game. The Sports bar offers standard American bar fare, a wide variety of local craft beer on tap, and plenty of plasma screen TVs for gameday viewings. The garage door windows open up on sunny days, and the elevated patio provides a great boost for people-watching. They have an in-house basketball court, shuffleboard, and video games at the ready, a fun way to pass the time while waiting on food or a table. The kitchen is open til 1 a.m., for those nights when you need a feed a little later than usual. We recommend the burgers and the wings (half off during happy hour)!
HH DEALS: 3-6 p.m., Monday through Friday
$4 select local drafts
$5 well drinks
50% off wings, 50% off all red baskets (chips, salsa & guacamole / seasoned fries / onion rings / regular or special tots)
Bootlegger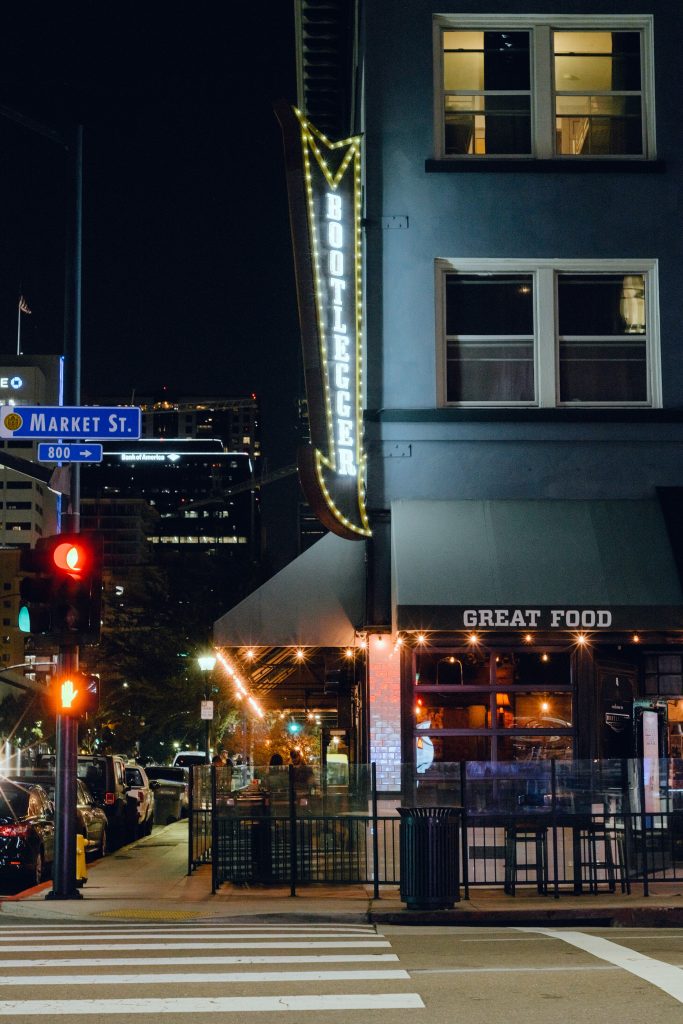 Of course we couldn't leave our downstairs neighbor off the list! Bootlegger has a laidback speakeasy-esque vibe and is a convenient place to grab a quick bite before heading upstairs for that much needed nap after a day full of San Diego sightseeing. Full of comfortable booths and trendy old timey décor, the place comes alive during weekend afternoons. In addition to have a daily happy hour, they have specials on certain menu items throughout the week, with two of our favorites being $2 tacos and $10 nachos (beer included!) on Tuesdays and $10 build-your-own-burgers on Thursdays (draft domestic also included). For Saturday and Sunday brunch, they have $15 bottomless mimosas from 9 a.m. to 1 p.m.
HH DEALS: Monday, Wednesday, & Friday from 3-7 p.m.
$5 wells & calls, house wines and draft specials
$5 small plates
Knotty Barrel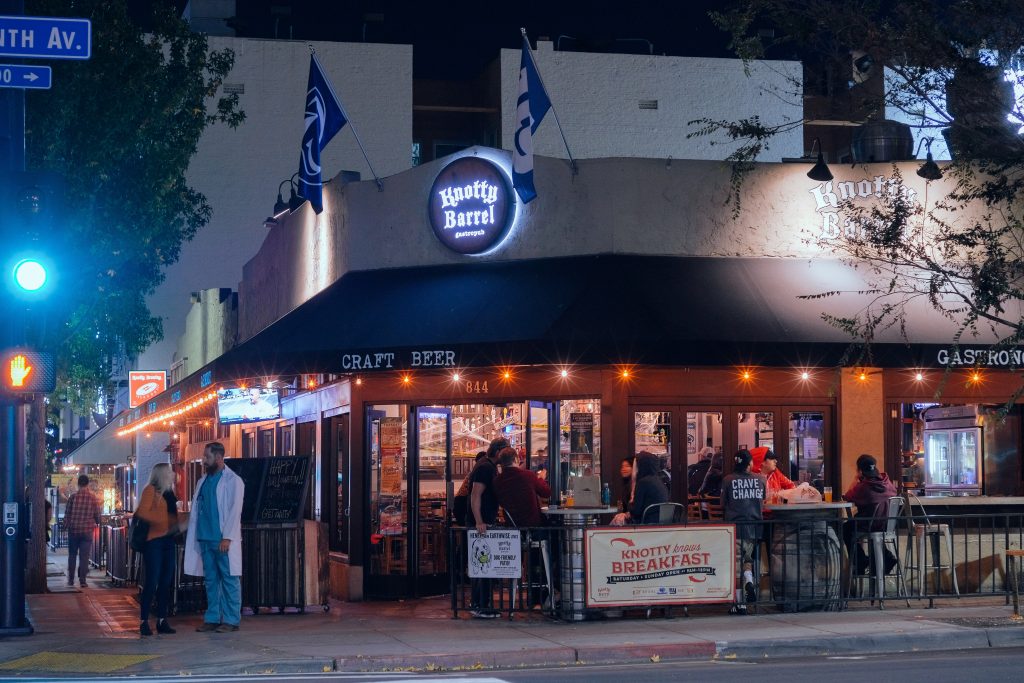 HH DEALS: Monday through Friday, from 3-7 p.m.
Discounts on select appetizers
$6 potato skins / house-made beer cheese
$7 Chipotle BBQ sliders / 3 way fries / fried pickles
Basic
The MO of Basic is simplicity, summed up in the name of the restaurant itself and evident in everything from its menu offerings to the general feng shui of the place. Simple, uncomplicated thin crust brick oven pizza is the order of the day at Basic, a restaurant that feels more like an open-air lounge with a chic industrial aesthetic. The building was converted from an early 20th century warehouse, with straightforward, efficient décor comprised of brick, wood and metal elements; the shag carpet is made from recycled rubber tires, and the building still has its original brick walls, with large garage door-style windows that stay open on beautiful days. Munch on free pizza samples while shooting pool during happy hour, or check out their Art Nights on Tuesdays evenings.
HH DEAL: Every day from 4-7 p.m.
$4 bottles and cans
$5 all draft beers & well cocktails
$6 Absolut or Jack Daniels cocktails
$7 all house wines
Free samples of Basic pizza (except on game days)
Tin Roof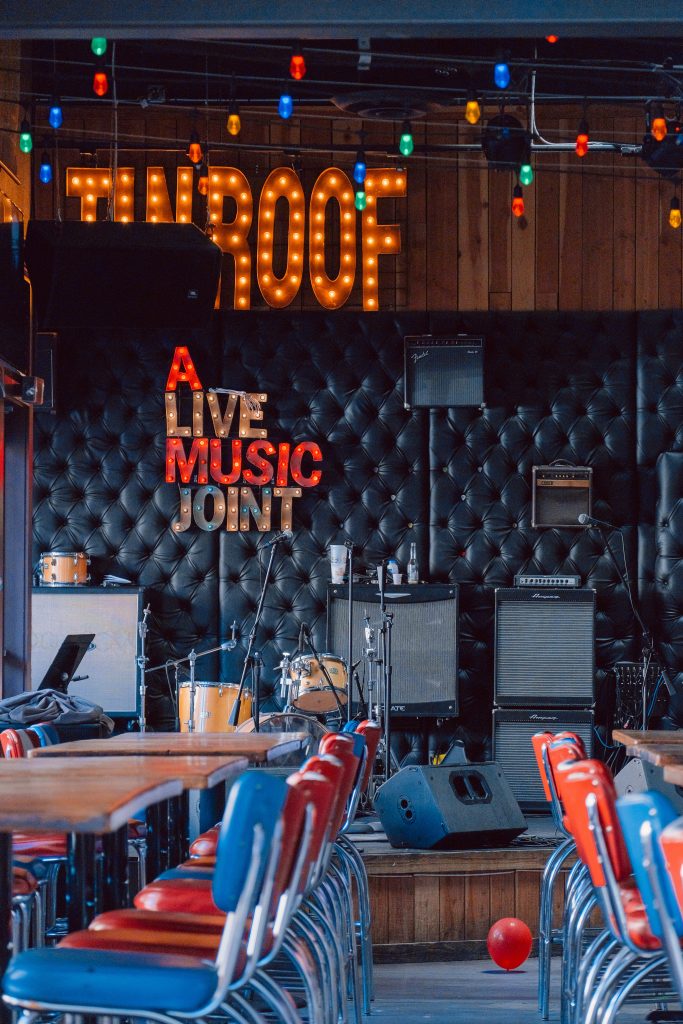 Just a short 5 minute walk from Lucky D's, Tin Roof brings a little bit of Southern charm to San Diego; though spacious, the Nashville inspired bar is an intimate spot where you can enjoy live local music and great people watching! They have tables for beer pong, jenga, and cornhole; on the patio outside is a large place to play shuffleboard. Bonus: they serve weekend brunch from 10 a.m. to 2 p.m. on Saturdays and Sundays, with bottomless mimosas and $5 bloody mary's!
HH deals: Monday through Friday, 3-7 p.m.
Half off all drinks and appetizers
Weekly specials: $5 Jameson & Fireball all day, everyday
Tuesday: $2 Tacos, $3 Mexican Beer
Wednesday: $5 well drinks
Thursday: $3 Tall Boys
Saturday and Sunday: Brunch 10am-2pm, bottomless mimosas & $5 signature bloody mary